Celestia's Coastal Cuisine Review
Hang on for a minute...we're trying to find some more stories you might like.
Black History Month can be quickly summarized as 28 days intended to celebrate African American history and culture. One significant element of this culture is food. In honor of this month, I visited a local Jacksonville eatery owned by African American chef and business woman, Celestia Mobley.
Mobley is the proud owner of Celestia's Coastal Cuisine; however, she didn't always have eyes for cooking: her origins were in banking.
In 1998, Celestia opened her first restaurant, Lojope's Seafood Restaurant. This was a small shop with few menu items. This was only for a short period of time because Mobley desired a greater understanding of business and the culinary arts, therefore enrolling in FSCJ's culinary program. During this phase in her career, Mrs. Mobley began her accomplished run as Potter's House chef. Simply hearing the words, Potter's House will make your mouth water if you've been. For these reasons, I chose to visit and recount my experience at Celestia's Coastal Cuisine.
Celestia's Coastal Cuisine, is a seat-yourself establishment, and you order through the line (like Zöe's Kitchen, if you will). The menu is displayed on the wall and in pamphlets and contains items like crab cakes, shrimp and grits, crab boil, mac 'n cheese, collard greens and more. When selecting my meal, I went the less traditional route and ordered one of the specials, smothered pork chops. I made this decision after recalling the delicious pork chops I'd had at the Potter's House not long ago and wanted to compare. To go with the pork chops I ordered sweet potato casserole and was informed after I'd sat down that they were out; I switched my side order to cabbage.
When the food arrived the presentation was less than impressive but I didn't want to judge a book by it's cover. I tried the meat, and it was immediately clear that it was lacking in flavor. After trying to make it work, I basically drowned it in hot sauce, Beyoncé would be proud. However, the cabbage was perfectly cooked and seasoned. It was both savory and sweet, which was a nice surprise, I also enjoyed that it was tender and juicy, and there was no crunch while I was eating it. As I was leaving, I didn't want to remember this restaurant with a bad taste in my mouth, literally or figuratively. To try and remedy the situation, I went back through the line and ordered some peach cobbler. I was thoroughly satisfied with my decision not to leave without dessert. The cobbler was creamy and gooey, yet tangy because of the peaches. It was truly the highlight of the meal.
All in all, the majority of Celestia's customers have nothing but positive things to say, and I was pleased to see such a wide variety of people eating in her restaurant. She has successfully created a great name for herself amongst the Northside of Jacksonville, which in my opinion makes her stand out amongst other black restaurant owners in Duval.
Image courtesy of Maya McCall '20.
About the Writer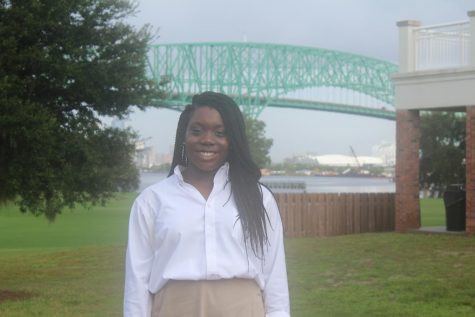 Maya McCall '20, Staff Writer
Maya McCall is a junior and a first-year staffer for The Talon Times. Maya has always loved expressing herself through writing and has now been given the...