Homespun Review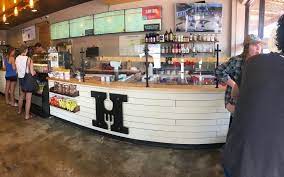 Homespun is located in Jacksonville's Atlantic Beach and Riverside areas. I have been to both locations and have had amazing experiences at both!
My go-to order at Homespun is the egg and cheese wrap, with avocado and ham added. There are many other options such as other wraps, protein bowls, yogurt bowls, toast and oats.
This restaurant makes just about everything from scratch, with organic and all-natural ingredients. Whether it is the dressings, bread, proteins, or sauces, the employees are making them from their ingredients. This also allows Homespun to support many eating styles, like vegan, vegetarian and gluten-free.
Not only do they have amazing food, they also have very good coffee. Homespun works with one of Jacksonville's newest community roasters, Flamingo Coffee. Flamingo focuses on high-quality green beans and roasting techniques. These coffee drinks never disappoint, and I highly recommend trying them!
Homespun is one of my favorite places to go for breakfast or early lunch. I definitely recommend going to Homespun for a quick and healthy option!
Image courtesy of visitjacksonville.com.