Texas Roadhouse Review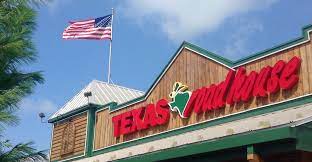 Whenever I want a steak but do not want to drop a decent amount of cash, it can be hard to find somewhere to eat. Texas Roadhouse has a laid-back atmosphere with low prices and great food. There are many of these restaurants in the United States, and they serve every cut of steak and offer you many other steakhouse staples.
Texas Roadhouse is most famous for their fresh bread rolls, baked every five minutes, with homemade cinnamon butter. Personally, I do not like cinnamon, so I do not like the butter, but my friends kept asking for more and were saying how great it is. 
At first glance, the restaurant looks very appealing, and the inside has a casual feel to it. How does the food look though?
I go out to eat all the time, from high-class restaurants to very chill restaurants. My friends and I chose to go to dinner at Texas Roadhouse, but they are also open for a late lunch or early dinner. 
First, we got fried pickles and salads for appetizers. The fried pickles might have been the best I ever had. They were battered and seasoned perfectly and came with ranch as a dipping sauce. The salad was just like any other normal salad to me. 
For my main dish, I got the beef tips with mashed potatoes. This comes with mushrooms, onions and brown gravy. Obviously you are able to ask for it without any of the add-ons, but I greatly enjoyed this meal. It was a savory meal and portioned very well.
A few other options I enjoy at Texas Roadhouse are the country fried steak, rib-eye, half-slab fall off the bone ribs, smothered chicken and grilled shrimp.
My overall experience at Texas Roadhouse has always been great service, great prices, and great food. I will continue eating at this restaurant. This is a restaurant you need to try, especially if you enjoy steaks but do not want to pay a high price.
Image courtesy of Flickr.